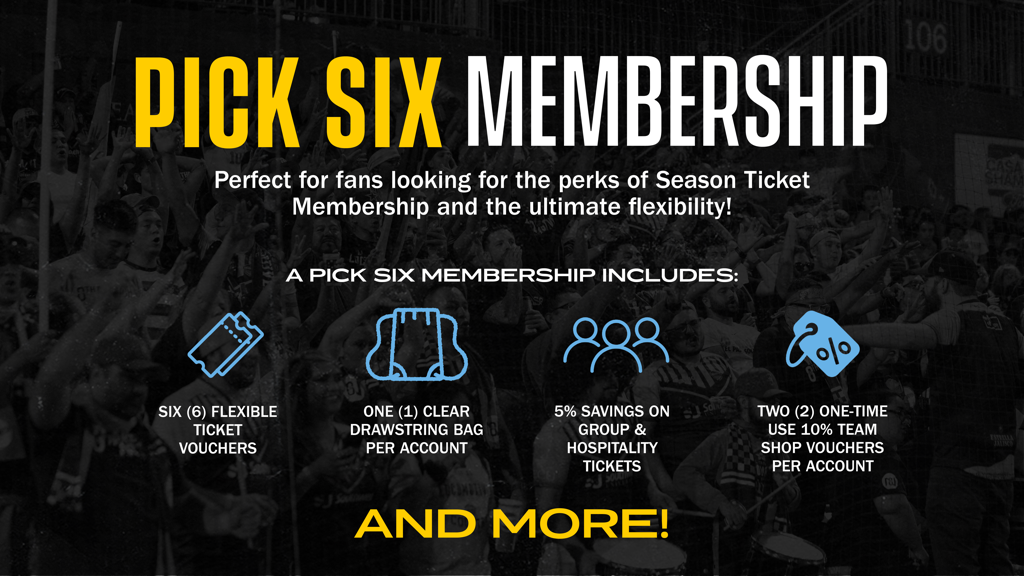 ---
EP Locomotive Pick Six Membership FAQs
What is a Locomotive Pick Six Membership?
The Locomotive Pick Six Membership is a perfect option for fans who wish to enjoy the perks of Season Ticket Membership and want an extra level of flexibility regarding their Membership experience. Each Pick Six Membership includes six (6) flexible ticket vouchers to be redeemed throughout the remainder of the 2021 regular season for matches of your choice!
What are the benefits of becoming a Locomotive Pick Six Member?
In addition to a flexible Membership and matchday experience, Pick Six Members enjoy a variety of Membership benefits during the 2021 Season including:
Savings over Day of Match ticket pricing (based on seating location) on all tickets redeemed through a Pick Six Membership
One (1) clear Locomotive Season Ticket Member drawstring bag per account for the first 75 Pick Six Membership accounts
Two (2) one-time use 10% Season Ticket Member merchandise savings vouchers per account towards purchases at the Locomotive Team Shop
Use of the exclusive Season Ticket Member entrances on matchday to skip lines upon entry (provides the best chance to secure giveaway items on select match dates!)
5% Season Ticket Member savings on select group seating and hospitality area tickets when planning private events at Locomotive matches (savings not applicable to food and beverage)
Option to upgrade, during the purchase process, to the Assurance Pick Six Membership to access the Locomotive Season Ticket Member Ticket Exchange Program to exchange vouchers already redeemed before the redeemed match occurs
A dedicated Locomotive Account Executive to assist with questions and all things Locomotive
I purchased a Locomotive Pick Six Membership, what happens next?
Congratulations and welcome to the Locomotive Season Ticket Member Family! If you purchased your Pick Six Membership online, you immediately have full access to your vouchers using the Online Ticket Account Manager credentials used to purchase your Pick Six Membership. A Locomotive Account Executive will contact you within 24 business hours to serve as a personal contact and provide a digital step-by-step guide to access and enjoy your Pick Six Membership and benefits.
What if I need more than six (6) ticket vouchers?
We recommend purchasing at least two Pick Six Memberships per account to enjoy maximum flexibility and access to tickets. By purchasing two Pick Six Memberships, you can enjoy two (2) tickets to six (6) matches, 12 tickets to one (1) match, or any combination in between. Of course, you can purchase more than two Pick Six Memberships upfront or use all your vouchers first and then purchase additional Pick Six Memberships later in the season. Advanced Pick Six Membership purchase is highly recommended for the best experience.
How do I redeem my Pix Six Membership vouchers for tickets?  Can I share vouchers with others?
As a Pick Six Member, you have total control of your Membership vouchers. All vouchers must be redeemed for tickets through your Online Ticket Account Manager. During this online redemption process, you can choose your exact seats within your chosen Membership seating level. You can also share vouchers with others via email in your Online Ticket Account Manager or redeem vouchers for tickets first and then email tickets to guests. All seating is based on availability.
Can I upgrade Pick Six Membership vouchers to higher priced seats?
Yes! During online redemption, you will have the opportunity to select exact seats (based on availability) to your chosen match(es). If you choose seats within your pre-purchased Membership level, your cost of the selected tickets will be covered by your pre-payment. If you choose to upgrade some of your vouchers during the redemption process, your Membership pre-payment will cover a portion of the cost and you will be required to pay the difference to complete the redemption. All ticket upgrades receive special Season Ticket Member pricing. All seating is based on availability.
Is there a cost to redeem Pick Six vouchers for tickets?
Yes. There is a $0.50 convenience fee per voucher redeemed through your Online Ticket Account Manager.
Can I receive a refund for unused vouchers or tickets?
Pick Six Membership vouchers and tickets are non-refundable once purchased and are non-refundable if not used.  If you would like the extra flexibility to exchange tickets as a part of your Membership, we recommend upgrading to the Assurance Pick Six Membership to access the Locomotive Season Ticket Member Ticket Exchange Program.