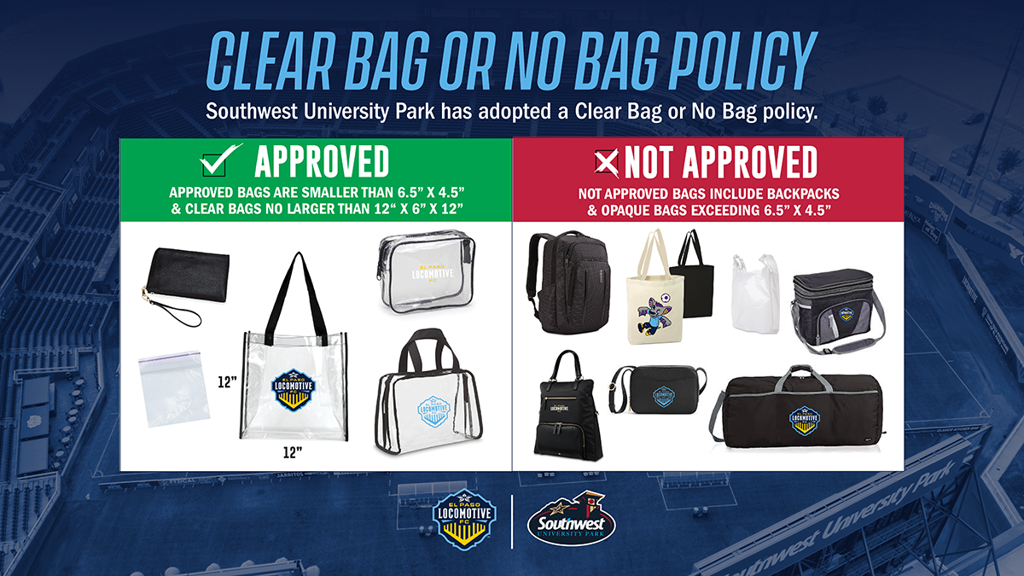 All guests attending Southwest University Park events, including Chihuahuas and Locomotive games, are required to use clear bags as outlined in the photo above as well as below.
Approved standard (non-clear bags) are limited to small clutch purses or similar and must be smaller than 6.5 x 4.5. All other types must be clear and may be no larger than 12 x 6 x 12. All bags will be subject to a search. See graphic below for details.
The new policy allows for a safer environment, helps expedite the entry process into Southwest University Park, and enhances the gameday experience. The clear bag rules fall in line with most entertainment venues around the country including Minor League Baseball ballparks and the United Soccer League Championship stadiums.
With the new clear bag policy guests are encouraged to limit the items they bring to Southwest University Park. Only permissible items will be allowed into the venue. Guests are encouraged to visit HERE for a complete list of Southwest University Park guidelines.
A list of prohibited items include the following: baskets, lawn chairs, stadium seats, sticks, offensive, political or other non-event related banners or signs, inappropriate clothing, laser pointers, pressurized air horns, vuvuzelas, whistles, cans, glass bottles, projectiles that can cause injury or disruption of the game or event, confetti, beach balls or other inflatable objects, fireworks, firearms or other weapons, squirt guns, frisbees, bicycles, in-line skates, scooters, skateboards, hoverboards (balance boards), unauthorized drones, knives, guns, drugs, and outside food and drink (exceptions include one sealed water bottle per guest or dietary needs approved items.
As stated, firearms are not permitted at Southwest University Park. This includes persons who hold a License to Carry (either a Concealed Carry or Open Carry license); per Section 30.06 and 30.07 of the Texas Penal Code, respectively.
Southwest University Park Clear Bag FAQ
WHY DID SOUTHWEST UNIVERSITY PARK ADOPT THIS POLICY?
Fan experience and the safety of our guests are a priority. This policy enables staff and security to enhance public safety and make Southwest University Park access more efficient and secure by limiting the size and style of bags.
HOW DOES THIS IMPROVE PUBLIC SAFETY?
The clear bag can be easily searched, reduces faulty bag searches, and reduces the risk AND transmission of infectious diseases such as the novel coronavirus (COVID-19).
HOW IS THIS POLICY MORE CONVENIENT FOR FANS?
The clear bags will enable security to move fans through checkpoints much faster than in the past. A standard size bag eliminates the need for templates to check bag sizes. Clear bags allow staff to be more efficient and effective in keeping you safe by preventing dangerous items from entering the venue.
HOW MANY BAGS CAN EACH PERSON BRING INTO THE VENUE?
Each ticketed attendee may bring in one (1) large clear bag – either a one-gallon Ziploc style bag or a clear bag that does not exceed 12" x 6" x 12". A small clutch purse (the size of the palm of your hand) that does need exceed 6.5" x 4.5". The small clutch allows privacy for small personal items and can be easily searched.
WHAT IF I HAVE CERTAIN ITEMS THAT I NEED TO BRING INTO THE VENUE DUE TO MEDICAL REASONS?
Guests needing to carry a bag for required medical supplies or devices are permitted. However, all bags are subject to inspection by Southwest University Park security. Following inspection, this bag will be tagged by security.
For questions regarding medical equipment and other needs, email guestservices@epchihuahuas.com.
WHAT ABOUT DIAPER BAGS?
Diaper bags are not permissible. Each patron, including children, is allowed to carry an approved clear bag and a clutch purse into Southwest University Park.
ARE ALL PURSES PROHIBITED?
No. Small clutch purses, with or without a handle/strap, no larger than 6.5" x 4.5" are permitted. Purses large than this are not permitted.
DO I HAVE TO PUT EVERYTHING I AM CARRYING INTO THE PERMISSIBLE BAG?
No. Limitations have been placed on the type of bags carried into Southwest University Park, not the items that are permissible. Guest can continue to carry items such as keys, phones, wallets, credit cards, cameras, binoculars, etc., in their hands or pockets if they choose not to place them in a clear bag (12' x'6" x 12") or clutch purse (6.5" x 4.5"). Guests can carry a blanket over their shoulders, and binoculars and/or cameras around their necks or in their hands without the case as these items can be easily screened and provided, they are not on the prohibited items list. All items subject to search upon entry to Southwest University Park.
Guests can also carry any personal items that meet the specified criteria in the clear bag or clutch purse. All items must be in adherence to Southwest University Park's Prohibited Item List.
WHAT HAPPENS IF I ARRIVE AT THE GATE WITH A BAG THAT IS NOT PERMITTED?
Should guests arrive at the Southwest University Park gates with a prohibited bag, the respective patron will be asked to return to their vehicle. As a reminder, guests should consult Southwest University Park policies and procedures prior to arrival to minimize inconveniences via either team websites or social media accounts, by CLICKING HERE, and any team newsletters.
WILL CLEAR BAGS WITH PATTERNS OR OVERSIZED LOGOS BE PERMITTED?
Clear Bags with logos that still allow Southwest University Park security to appropriately conduct bag check are permitted. Opaque or mesh bags and clear bags with patterns are prohibited.
WILL CLEAR BAGS BE AVAILABLE FOR PURCHASE?
Yes. Clear bags are available at the Chihuahuas and Locomotive Team Shop. The Chihuahuas Team Shop is located on the corner of Durango St. and Franklin Ave. and the Locomotive Team Shop on Santa Fe St. Clear bags may also be purchased at the respective websites: epchihuahuas.com and eplocomotivefc.com.