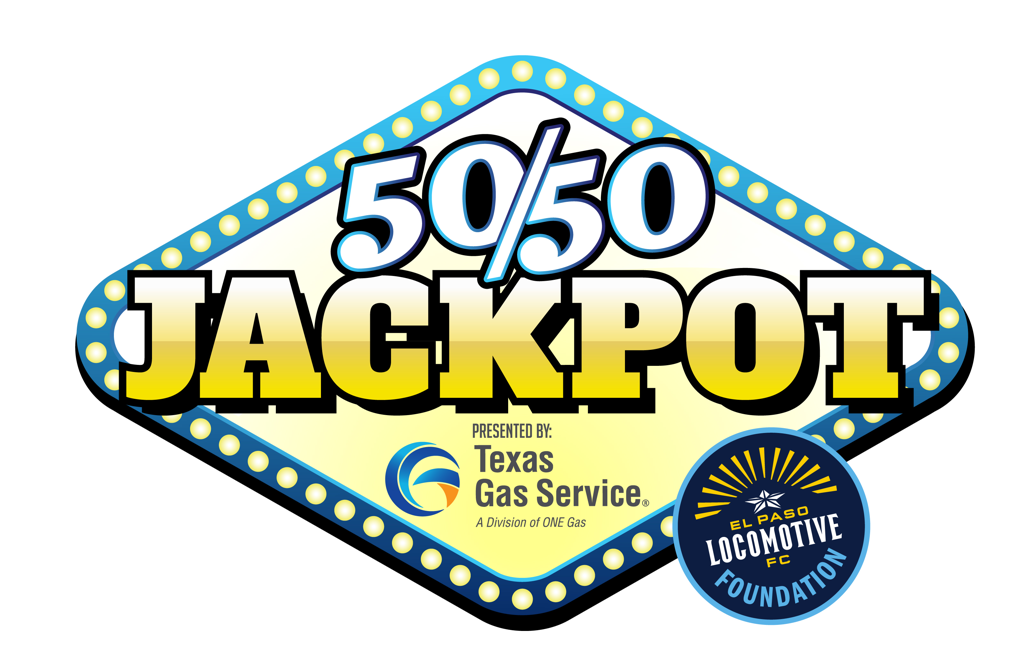 The El Paso Locomotive FC Foundation 50/50 Raffle gives you the chance to leave the Locomotive game A WINNER!
Fans can purchase 50/50 tickets during every home game throughout the 2023 season from any one of our sellers. Ticket sales will begin when gates open and close at the 75th minute.
You can check the gross prize amount on the main scoreboard throughout the game. After taxes, 50% of the proceeds will be given to one lucky winner, and the other to the El Paso Locomotive FC Foundation. The winning number will be posted on the videoboard at the end of the match and updated nightly on this webpage.
To claim the prize, visit the Social Square at Section 112 on the main concourse or email Angela Olivas at aolivas@eplocomotivefc.com for further instructions.
2023 Winning Numbers
| | | | |
| --- | --- | --- | --- |
| MATCH DATE | WINNING NUMBER | TOTAL POT | WINNING POT/PRIZE |
| March 11, 2023 | 393676012 | $1,430 | $715 |
| March 15, 2023 | 125829003 | $600 | $300 |
| March 18, 2023 | 593763008 | $830 | $415 |
| April 8, 2023 | 1299519014 | $1,340 | $670 |
| April 22, 2023 | 1406794007 | $1,760 | $880 |
| May 13, 2023 | 1531756161 | $980 | $490 |
| June 14, 2023 | 13793945156 | $950 | $475 |
| June 17, 2023 | 14046413098 | $1,140 | $570 |
| July 1, 2023 | 12265442082 | $1,040 | $520 |
| July 12, 2023 | 13207885062 | $880 | $440 |
| July 15, 2023 | 16471349019 | $560 | $280 |
| July 22, 2023 | 14073188064 | $900 | $450 |
| August 19, 2023 | 17492630004 | $470 | $235 |
| September 2, 2023 | 15704102008 | $360 | $180 |
| September 23, 2023 | 19521138015 | $60 | $30 |
| September 30, 2023 | 14117355012 | $300 | $150 |
| October 4, 2023 | 12467466059 | $290 | $145 |
El Paso Locomotive FC Foundation 50/50 Raffle Official Rules
Description of the Raffle: By participating in the El Paso Locomotive FC Foundation 50/50 Raffle, ("Raffle"), each participant ("Entrant") is subject to, and agrees to be bound by, these Official Rules and by the decisions of the MountainStar Sports Group Foundation d/b/a El Paso Locomotive FC Foundation ("Foundation"), which shall be binding and final as to all matters related to the Raffle. The Raffle is subject to all applicable federal, state and local and municipal laws and regulations. Some restrictions apply.
The Foundation seeks to create a positive financial and cultural impact on families and children in our community through creative programs and events
Who Is Eligible: The Raffle is open to anyone who is age eighteen (18) or older as of the date of the purchase of a Raffle Ticket ("Ticket" or "Tickets"). The Foundation reserves the right to request photo identification from any person desiring to purchase a Ticket. Full-time employees of MountainStar Sports Group and seasonal employees of the El Paso Stadium Operations Company, Foundation and Spectra Food and Services are not eligible to participate in the Raffle, with the exception that a seasonal employee not working but otherwise at Southwest University Park ("Stadium") as a fan is eligible to participate in the Raffle. Home and visiting team staff/players/personnel, Southwest University Park Contractors, and anyone else that is at the stadium in a working capacity is not eligible to participate in the Raffle.
How to Enter: Tickets will be available for purchase in-person only at the Stadium at every El Paso Locomotive FC home match from the time the gates open to the public and concluding at the 75th minute ("Raffle Period") or at a time set in the Foundation's sole discretion.
The Raffle may be entered by purchasing Tickets by cash, credit or debit card, as follows: 5 Tickets for $10.00, 20 Tickets for $20.00, 80 Tickets for $40.00, or 300 Tickets for $100.00 from designated Foundation representatives stationed throughout the Stadium. Each Ticket sale will be final, and each Ticket purchased will represent one entry in the Drawing for the Official Winner ("Winner") of the Raffle. The Foundation reserves the right to change the Ticket pricing as deemed necessary, and communication of these changes will be made prior to the sale of Tickets. No discounts or complimentary Tickets will be provided. Each Ticket is a receipt for Entrant's purchase and represents an entry for the Raffle for the specific game at which the Ticket is purchased and is not eligible for any past or future Raffle drawings. There is no limit to the number of Tickets an Entrant may purchase. All Ticket purchases are final, and no refunds or replacements will be issued.
Tickets are Not Tax Deductible: The IRS has taken the position that amounts paid for chances to participate in raffles, lotteries, or similar programs are not gifts and, therefore, the price of the entry does not qualify as a deductible charitable contribution.
Drawing: The winning Ticket ("Winning Ticket") will be selected in a random drawing. The Drawing will be held at the conclusion of the match and will be conducted by the Foundation whose selection will be final and binding.
Claim Period: The Winning Ticket will be announced over the Stadium's Public Address System, will be posted on the Stadium's electronic video board/side boards from time to time, and will be posted online for 30 days at www.eplocomotivefc.com.
The Winning Ticket must be presented in-person to the 50/50 Raffle Kiosk, located on the Main Concourse, during the game the winning ticket was drawn, or presented to a Foundation representative by appointment within 30 business days of the Drawing at the Stadium located at 1 Stadium Plaza, El Paso, TX 79901. Should the 30th day fall on a Saturday, Sunday or legal holiday in the State of Texas, then the Claim Period shall be extended to the immediately following business day. Any transportation required for the Winner to make delivery of the Winning Ticket shall be the Winner's sole responsibility and will not be furnished by the Foundation. The Winner must provide the Foundation with all information required to claim the Prize as detailed on the Prize Claim Form and must complete and sign all applicable tax forms. The Foundation has no obligation to contact potential winners. Any Prize that is not properly and timely claimed, and any uncollected Prize check or check that is mailed that is returned as undeliverable shall be deemed forfeited, and the Prize amount shall be retained by the Foundation.
Prize: There will be a maximum of one Winning Ticket selected during each Drawing. The Winner of each Drawing will, subject to the Official Rules, be awarded fifty percent (50%) of the net Raffle proceeds of that specific game, less any and all applicable taxes or fees. The remaining proceeds shall be retained by the Foundation. Each Winner assumes all responsibility for any state, county, or federal taxes, fees and withholdings. Federal and state withholding laws are subject to change without notice. The withholding laws in an effect at the time each Prize is claimed will be followed. The Prize will be paid to the Winner by check within 30 days after the date the Prize is claimed. The Raffle Ticket is the only valid receipt for claiming the Prize.
Odds: The odds of winning the Prize are 1/the total number of eligible entries received.
General Rules: The value of any Prize awarded to a Winner is generally taxable as ordinary income to the Winner and may be reported for tax purposes as required by law. Each Winner is solely responsible for reporting and paying any and all applicable federal, state and local taxes related to or arising from any Prize and paying any expenses associated with any Prize that are not specifically provided for in these Official Rules. The Foundation will complete and file IRS form W-2G and withhold federal income tax of 24% from the Winner's proceeds in accordance with IRS guidelines and regulations for any Prizes of $600 or more. Any Winner of a Prize over $600 will receive the appropriate IRS information return at the end of the calendar year, and a copy of such form will be filed with the IRS. Each Winner is advised to consult with a tax professional to determine how to properly report and pay the applicable taxes related to any Prize won. A Winner who is a non-resident alien for tax purposes will be subject to all applicable withholding and reporting requirements. Winners may waive the right to receive a Prize, at which time the Prize from that Drawing will be forfeited, and the Prize shall be retained by the Foundation.
Transfer of Ticket: An Entrant may opt to give away his/her Tickets to another eligible person, but in doing so the Entrant waives any claim he/she might otherwise have to the Prize. An Entrant may not re-sell his/her Tickets to other parties, and may not give Tickets away to another for the purpose of allowing those other parties to re-sell such Tickets. All Tickets which have been resold in violation of these Official Rules shall be void. All individuals who re-sell, purchase, or receive Tickets in violation of these Official Rules shall be ineligible to participate in the Raffle or to win a Prize. Transferred Prizes shall be bound by all the terms and conditions of these Official Rules.
Release of Liability: By entering into the Raffle, each Entrant agrees to: (a) be bound by these Official Rules; and (b) release, waive, discharge, covenant not to sue and indemnify the Foundation, Mountainstar USL Operations Company, the Division II Professional Soccer League, and their respective parent corporations, subsidiaries and affiliates, together with their owners, partners, employees, officers, directors, sponsors and agents, including advertising, sponsorship and promotion agencies ( collectively, the "Released Parties") from any and all liability with respect to any injury, damage or loss that may occur, directly or indirectly, in whole or in part, from participating in, or while preparing to participate in the Raffle.
Publicity Release: Each Winner, by accepting his/her Prize, agrees to have his/her name, photograph, image and likeness, and voice published, broadcast and otherwise reproduced by Foundation and Foundation's designees and affiliates, including the El Paso Locomotive FC in any media or format, worldwide, for publicity and promotional purposes, without notices, review or approval and without further payment of consideration, for an unlimited duration.
Disclaimer: The Foundation, in its sole discretion, reserves the right to disqualify any person tampering within the entry process or otherwise in violation of the Official Rules. The Foundation further reserves the right to cancel, terminate or modify the Raffle for any reason, including, but not limited to any Raffle that is not capable of completion as planned, infection by tampering, unauthorized intervention or technical failures of any sort, fraud, or force majeure.
The Released Parties are not responsible for: (1) Tickets which are lost, stolen, improperly issued, printing errors, counterfeited, illegible, given away, altered or subject to other deficiencies which may limit an Entrant's ability to participate in or win any Raffle; (2) Entries or payments that are delayed, misdirected, undelivered, not fully captured, or garbled in a ISP, website, computer, telephone, cable or satellite modem or connection, handheld mobile device or any other computer equipment or connection, whether or not caused by site users, tampering, hacking, or by viruses, worms or malfunctions affecting network, server ISP or any equipment or programming used in or associated with the Raffle; (3) Any other errors of any kind, whether human, typographical, printing, mechanical, or electronic in nature which relates to the Raffle, including without limitations errors in Raffle related materials or in the administration of the Raffle, such as errors in processing Tickets, determining Winners, or announcing or delivery of a Prize; or (4) for any portion of the Raffle that is compromised. If any of the delineated events occur, then the Foundation reserves the right, in its sole discretion, to suspend, modify or terminate the Raffle. Released Parties make no warranty, guaranty or representation of any kind concerning any Prize and disclaim any implied warranty. Failure to enforce any term of these Official Rules shall not constitute a waiver of these provisions.
GOVERNING LAW: THIS AGREEMENT SHALL BE GOVERNED BY AND CONSTRUED IN CONFORMITY WITH THE LAWS OF THE STATE OF TEXAS (EXCLUSIVE OF CONFLICTS OF LAWS PRINCIPLES). EACH PARTY HEREBY EXPRESSLY WAIVES ANY AND ALL RIGHTS WHICH IT MAY HAVE TO MAKE ANY OBJECTIONS BASED ON JURISDICTION, VENUE, OR SUFFICIENCY OF PROCESS TO ANY SUIT BROUGHT TO ENFORCE THIS AGREEMENT IN EL PASO COUNTY, TEXAS.