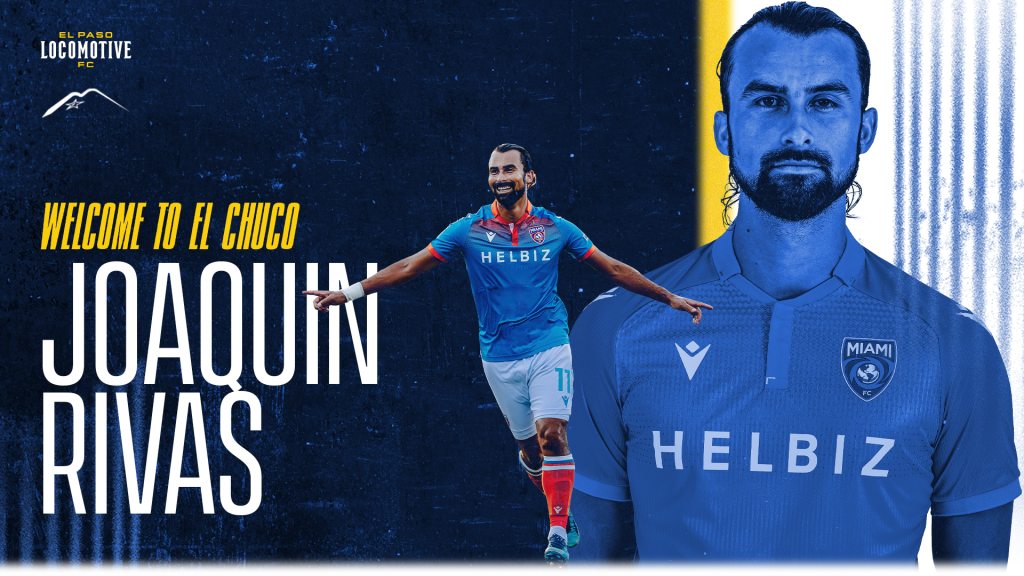 EL PASO, Texas – El Paso Locomotive FC has signed forward Joaquin Rivas from Miami FC ahead of the 2024 USL Championship season, the club announced today.
Rivas, 31, joins El Paso after posting one of the best seasons in his USL Championship career, finishing as Miami's top scorer (10 goals) and joint-top assist leader (three assists) in 2023. In South Florida, Rivas scored 27 times and assisted six in 95 appearances across all competitions.
"Joaquin is a technically gifted player with extreme footballing IQ and has a ton of experience in both the USL and internationally with El Salvador," Head Coach and Technical Director Brian Clarhaut said. "He had a fantastic year in Miami, leading them in total points (goals & assists), and we look forward to welcoming a player like Joaquin whose quality will be enjoyed by our fans and community here in El Paso."
Rivas is now the third El Salvador senior international on Locomotive's 2024 roster, alongside Eric Calvillo and Amando Moreno. Having played most recently in the September window of the 2023/24 Concacaf Nations League, Rivas has four goals and three assists in 34 matches for La Selecta.
Rivas, like Locomotive's other offseason acquisitions, brings a wealth of USL Championship experience as Clarhaut continues to bolster the squad for 2024. Rivas has started 133 of 178 official Championship games, scoring 45 goals and assisting 15 across the regular season and postseason.
"I am extremely pumped for this new journey in my career," Rivas said. "El Paso checked a lot of boxes that I'm happy to be a part of and being able to play alongside some familiar faces who I know have a winning mentality like me means we can truly build something special."
He spent four seasons (2021-2022, 2017-2018) leading the charge for FC Tulsa, where he built his name to become one of the league's top offensive talents. His ability to find the back of the net and create opportunities saw him score 27 times and assist six during his time with Tulsa. From his memorable 2017 campaign where he helped the club clinch its first playoff berth and reach the fourth round of the U.S. Open Cup to holding the all-time leading goal scoring record between 2021-2022, Rivas cemented himself as a Tulsa legend.
Before his second stint in Tulsa, Rivas spent two years at the now-defunct Saint Louis FC. He was a contributing member to the historic final campaign in 2020, scoring the iconic 93rd minute game winner against Hartford Athletic to help the club reach its first and only Eastern Conference Semifinal appearance. In total, he bagged three goals and two assists in 21 appearances for Saint Louis.
Born in Santa Ana, El Salvador and raised in Las Vegas, Rivas got his start in the USL with Sacramento Republic FC in 2015, making his league debut as a starter in the 2015 season opener and was part of Republic's 2016 season in which they finished the regular season top of the Western Conference. He had one assist in 21 total appearances across all competitions for Republic.   
Future roster transactions will be announced as Locomotive prepares for its sixth season in the USL Championship.
El Paso Locomotive FC's 2024 roster as it currently stands is listed below, alphabetically by position.
Goalkeepers (1): Javier Garcia
Defenders (3): Nick Hinds, Miles Lyons, Elijah Martin
Midfielders (8): Diego Abarca, Bolu Akinyode, Arun Basuljevic, Eric Calvillo, Chris Garcia, Luis Moreno, Petar Petrovic, Liam Rose
Forwards (2): Amando Moreno, Joaquin Rivas