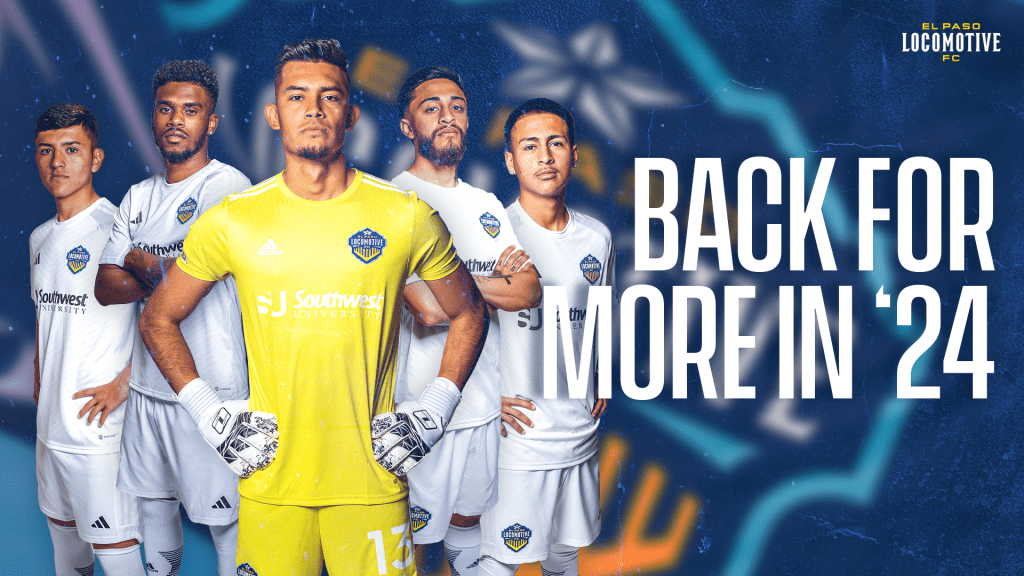 EL PASO, Texas – Five El Paso Locomotive FC players will return for the 2024 USL Championship season, the club announced today. Those five include goalkeeper Javier Garcia, defender Nick Hinds, midfielders Diego Abarca and Luis "Lalito" Moreno and forward Chris Garcia.  
Born and raised in El Paso, Chris Garcia joined Locomotive on loan from Major League Soccer's Real Salt Lake midway through 2022 season and was offered a full professional contract in El Paso for 2023 after impressing the coaching staff with his dynamism and technical ability. He would score his first Locomotive goal this season, a clutch-game winner at home in the final minutes against Loudoun United FC that would help extend an eventual 12-match unbeaten streak. Overall, the 20-year-old has made 25 appearances (three starts) for Locomotive and will look to continue his development throughout 2024.
Abarca – who made history twice in 2022 as Locomotive's youngest-ever goal scorer (16) and first homegrown Academy product (alongside Joel Maldonado) to sign a professional contract – also returns for his third season at Locomotive, his second as a full professional. In 2023, Abarca made six appearances and played the full 90 minutes in the Open Cup match at Union Omaha. Overall, Abarca has four starts in 14 appearances, with his sole Locomotive goal being the long-range screamer vs Hartford Athletic that was featured on ESPN's SportsCenter Top 10 at #8.
Lalito arrived in El Paso just before the start of the 2023 season, making history as the club's youngest-ever signing at 16 years old. He made his Locomotive debut in April during Locomotive's Open Cup match at Union Omaha and registered his first league appearance in the 1-0 Derby Del Camino Real win at New Mexico United. He made his first start for Locomotive against Miami FC, playing the entire first half.
2024 will mark the third year at Locomotive for Hinds, who had nine starts in 26 total appearances for Locomotive in 2023. Under a system led by Head Coach and Technical Director Brian Clarhaut, Hinds played an important role in buildup play from the backline. In his three seasons, Hinds has two goals and 24 starts in 58 appearances across all competitions.
Garcia came to El Paso in January from his hometown club, Rio Grande Valley FC, and got the chance to make his Locomotive debut in the Open Cup match at Union Omaha. He also came on as a late substitute in El Paso's Western Conference Quarterfinal match against Orange County SC. For the upcoming season, the 25-year-old will be looking to compete for the top spot in between the posts.
Future roster transactions will be announced as Locomotive prepares for its sixth season in the USL Championship.
El Paso Locomotive FC's 2024 roster as it currently stands is listed below, alphabetically by position.
Goalkeepers (1): Javier Garcia
Defenders (3): Nick Hinds, Miles Lyons, Elijah Martin
Midfielders (8): Diego Abarca, Bolu Akinyode, Arun Basuljevic, Eric Calvillo, Chris Garcia, Luis Moreno, Petar Petrovic, Liam Rose
Forwards (1): Amando Moreno