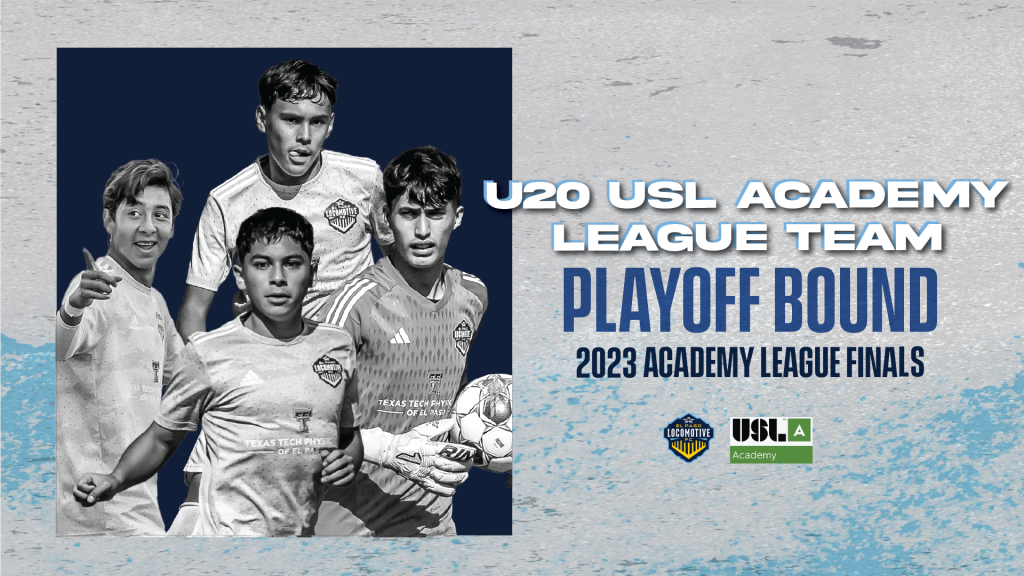 EL PASO, Texas – El Paso Locomotive FC Academy announced today that it has clinched its historic first-ever berth for the USL Academy League Finals, which will take place Dec. 7-10 in Tampa, FL.
"This is a monumental step in our program's history," Academy Director Ivan Militar said. "From the beginning, competing on the national stage was our focus and these are the types of achievements we set forth for ourselves as goals. The Academy staff has worked tirelessly over the years to develop the talent we see on our U20 USL Academy team, and it would not have been possible without the support and dedication from everyone involved, past and present."
The Locomotive FC Academy finished the 2023 USL Academy season third place in the Boys – U20 Mountain Division, posting an 8-3-1 record and a +21-goal difference (36 GF, 15 GA). The Locomotive FC Academy went undefeated in its last three matches of the regular season, closing it out with a 3-2 win against Park City Red Wolves U-20 at Southwest University Park, the first time that the Locomotive FC Academy played an official match at the senior team's stadium.
This will be the first time since the Academy's founding in 2020 that Locomotive FC will have the opportunity to compete in the USL Academy League Finals, a testament to the continued investment and dedication to make Locomotive a premier destination in the country for youth soccer and development. Locomotive FC Academy will now look forward to representing the entire Locomotive organization and the city of El Paso on a national stage.
"We may be newcomers to this tournament, but we are going to Florida with confidence knowing that we are a very strong and talented group ready to fight for our Club and our city," Militar said. "We will make the Locomotive family proud; I can assure everyone of that!"