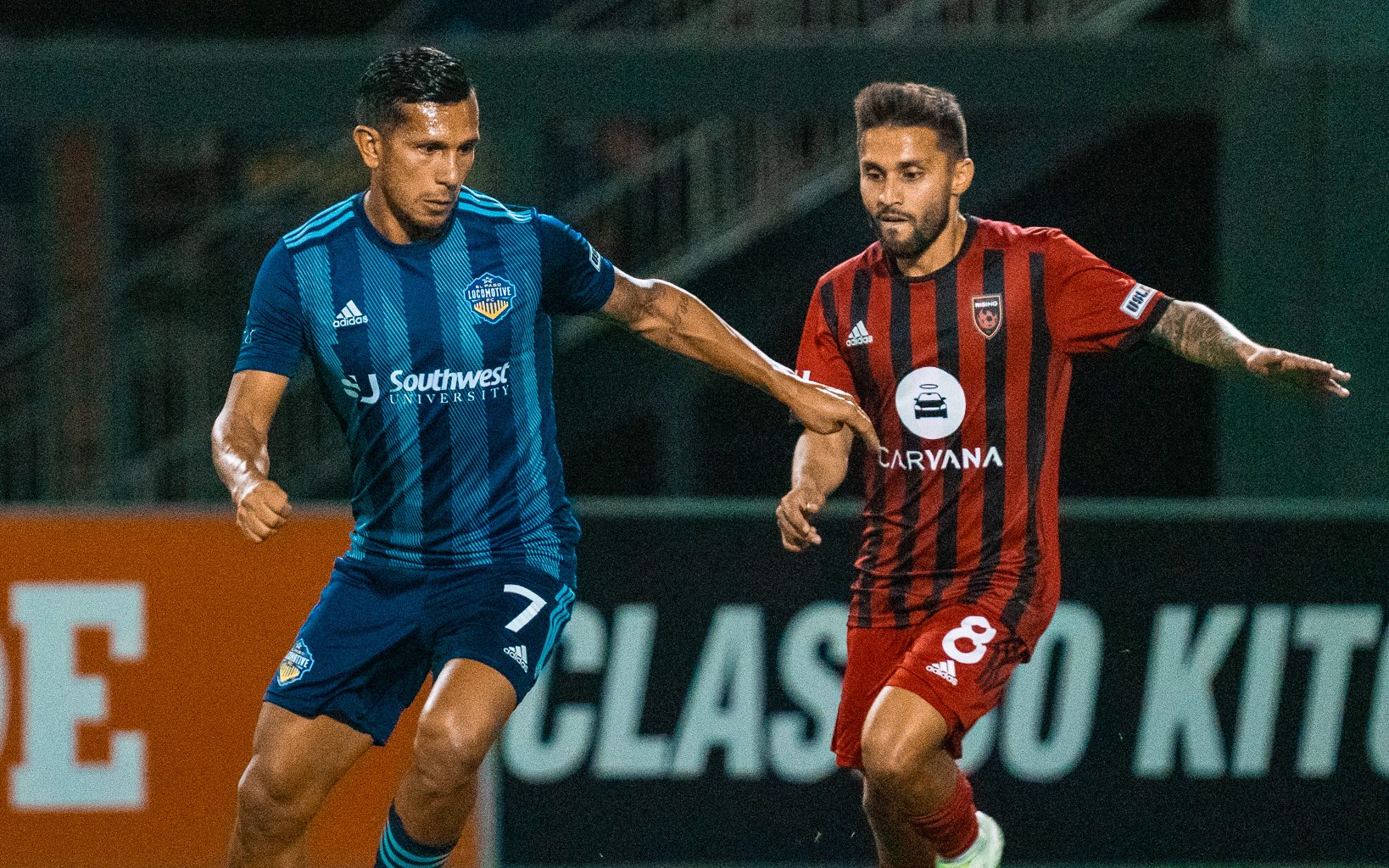 EL PASO, Texas – El Paso Locomotive FC (West-9, 11-12-7, 40 points) drew 1-1 against Phoenix Rising FC on Saturday night at Southwest University Park.
"With what we created in the first half, I thought we had a lot of opportunities to bury the game," Head Coach and Technical Director Brian Clarhaut said in the post-match press conference. "Internally, it feels like a loss, but I spoke to the group and I said, 'It's an important point.' We'll take the point. It's a disappointing result because I thought we played well, and I thought we deserved more."
El Paso was the stronger team in the first half, applying pressure up top to force four shots at goal and maintaining a firm defensive shape to limit Phoenix to zero opportunities on target.
Phoenix would step up its attack coming back from the break, but not before Locomotive opened the scoring in the 56′ thanks an Aaron Gomez tap in.
El Paso managed to hold out Rising's offensive persistency for most of the match, but a stoppage time equalizer ultimately saw both teams split the points at the end of the night.
FORECAST: 88ºF, clear skies
ATTENDANCE: 6,708
TEAM NOTES
Aaron Gomez scored his fifth goal of the season, snapping a four-game scoring drought. It was his first home goal since July 16 against Rio Grande Valley FC (1-1).
Petar Petrovic assisted his third goal of the season, the club's joint-second assister alongside Denys Kostyshyn and Ricardo Zacarias.
This is the first draw between El Paso and Phoenix in regular season play.
SCORING SUMMARY
ELP 1 – Aaron Gomez (Petar Petrovic) 56′  
PHX 1 – Dariusz Formella (Carlos Harvey) 90+1′
LINEUPS
ELP – (5-3-2) Benny Diaz, Marc Navarro, Erik McCue, Noah Dollenmayer, Petar Petrovic (Nick Hinds), Miles Lyons, Liam Rose, Eric Calvillo – C, Denys Kostyshyn (Louis Herrera), Aaron Gomez (Ricardo Zacarias), Petur Knudsen (Emmanuel Sonupe)
Subs Not Used: Javier Garcia, Jose Carrillo, Chris Garcia  
PHX – (3-5-2) Rocco Rios Novo, John Stenberg, Mohamed Traore, Alejandro Fuenmayor (Daniel Krutzen), Darnell King – C (Erickson Gallardo), Jose Hernandez, Carlos Harvey, Edwin Munjoma (Dariusz Formella), Panos Armenakas, Daniel Trejo, Manuel Arteaga (Emil Cuello)
Subs Not Used: Patrick Rakovsky, Federico Varela, Henry Uzochukwu
MISCONDUCT SUMMARY
ELP – Denys Kostyshyn (Yellow) 40′, Erik McCue (Yellow) 73′, Aaron Gomez (Yellow) 82′
PHX – Mohamed Traore (Yellow) 69′
MATCH STATS: ELP | PHX
GOALS: 1|1   
ASSISTS: 1|1    
POSS. %: 37|63   
SHOTS: 13|14   
SHOTS ON GOAL: 7|2   
SAVES: 1|5 
FOULS: 7|11   
OFFSIDES: 0|5   
CORNERS: 1|2   
UP NEXT: Saturday, September 30 vs Charleston Battery. Kickoff set for 7:30 p.m. MT at Southwest University Park.
PROMOTION: Fan Appreciation Night.
TICKETS: Purchase online at eplocomotivefc.com/tickets, within the official mobile app, calling (915) 235-GOAL or texting (915) 666-2005.