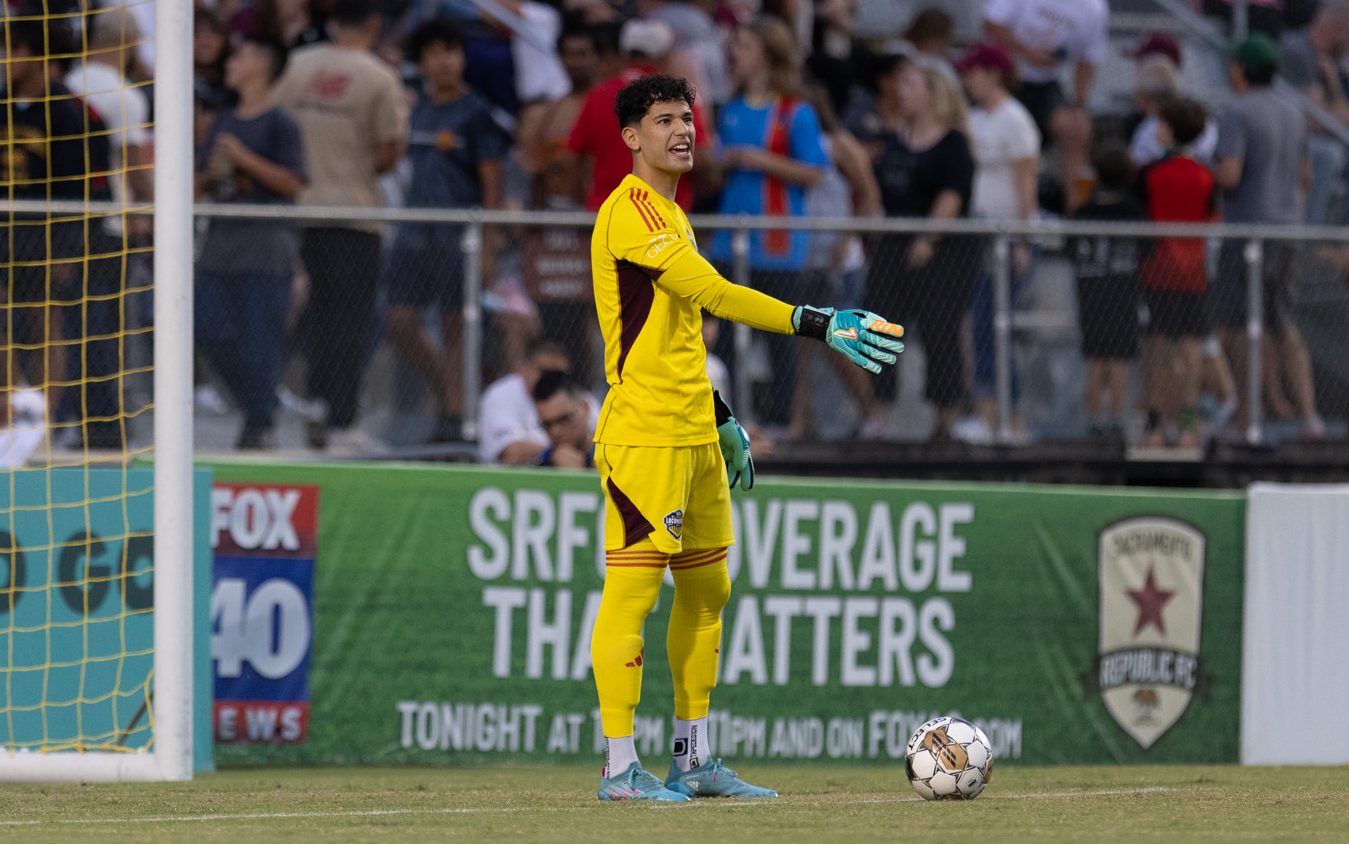 EL PASO, Texas – A heartbreaking stoppage time goal saw El Paso Locomotive FC (West-9, 11-12-6, 39 points) fall 1-0 on the road to Sacramento Republic FC on Saturday night.
El Paso held strong defensively for a majority of the night, recording 22 clearances and seven interceptions against a persistent Sacramento offense. Locomotive goalkeeper Benny Diaz put on one of his best performances this season, recording his fifth five-save game and a massive penalty attempt save – his first in 2023 – to keep El Paso in the fight.
Unfortunately, in the final moments of the match, Republic midfielder Luis Felipe connected a header to put the ball into the back of net and steal a potential road point from El Paso.
El Paso will now prepare for its next test at home in a massive Western Conference rematch against Phoenix Rising FC, the first of El Paso's final three-match homestand.
FORECAST: 74ºF, clear skies 
ATTENDANCE: 11,569
TEAM NOTES
Benny Diaz recorded his first penalty attempt save of the 2023 season, as well as his fifth five-save game.
El Paso's next three matches are its final home matches of the regular season: 9/23 vs Phoenix Rising FC, 9/30 vs Charleston Battery, and 10/4 vs San Diego Loyal SC.
SCORING SUMMARY
SAC 1 – Luis Felipe (Keko Gontan) 90+4′
LINEUPS
ELP – (5-3-2) Benny Diaz, Marc Navarro, Erik McCue, Noah Dollenmayer, Petar Petrovic (Nick Hinds), Miles Lyons, Liam Rose, Eric Calvillo – C, Denys Kostyshyn (Chris Garcia), Ricardo Zacarias (Emmanuel Sonupe), Petur Knudsen (Aaron Gomez)  
Subs Not Used: Javier Garcia, Jose Carrillo, Louis Herrera  
SAC – (3-4-3) Carlos Saldaña, Jared Timmer, Conor Donovan, Shane Weidt, Lee Desmond – C, Luis Felipe, Matthew LaGrassa (Nicholas Ross), Jack Gurr, Russell Cicerone, Rodrigo Lopez (Keko Gontan), Juan Herrera (Cristian Parano)
Subs Not Used: Danny Vitiello, Da'vian Kimbrough, Johnny Fenwick, Aldair Sanchez
MISCONDUCT SUMMARY
ELP – Miles Lyons (Yellow) 80′
SAC – Shane Weidt (Yellow) 26′, Jack Gurr (Yellow) 67′  
MATCH STATS: ELP | SAC 
GOALS: 0|1   
ASSISTS: 0|1    
POSS. %: 41|59   
SHOTS: 8|17   
SHOTS ON GOAL: 3|6  
SAVES: 5|3   
FOULS: 13|18   
OFFSIDES: 1|1    
CORNERS: 0|4   
UP NEXT: Saturday, September 23 vs Phoenix Rising FC. Kickoff at 7:30 p.m. MT at Southwest University Park. El Paso Locomotive FC return home for a Western Conference rematch against Phoenix Rising FC. Fans are invited to stay post-match for the final fireworks show of the season. Tickets are available for purchase online at eplocomotivefc.com/tickets, within the official mobile app, calling (915) 235-GOAL or texting (915) 666-2005.