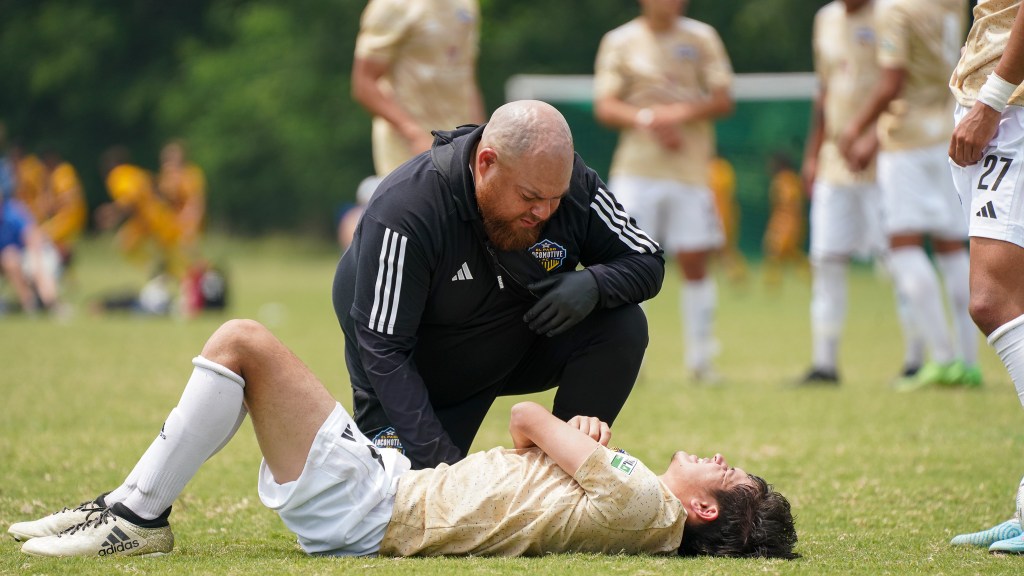 EL PASO, Texas – One of the many differences between youth athletes and professionals is the amount of time spent focused on recovery and physical well-being.
For younger players, who play frequent games in shorter periods of time, their endurance and high energy levels can develop a false notion that not so much time is needed for recovery.
And that's where Andres Rivera steps in.
As the Head Athletic Trainer for El Paso Locomotive FC Academy, it is Rivera's job to teach youth players the importance of taking care of their personal well-being to prevent injuries and illness, and how to manage treatment when they do happen.  
"Sometimes, young players are not as concerned about taking care of themselves, so I make sure that they sit down with me early on to show them the importance of recovery," Rivera said. "As they get older and progress to a higher level, they have learned how to take better care of themselves to enhance long-term performance."
A San Diego native, Rivera served 15 years in the Marine Corps before deciding to pursue a new career in athletic training. Rivera holds a bachelor's and master's in athletic training from New Mexico State University and the University of South Carolina, respectively, and gained hands-on experience working with the football programs at each school.  
Rivera would eventually move back to the Borderplex region to be closer to family – natives of Las Cruces, New Mexico – and found an opportunity to work with El Paso Locomotive FC as an assistant athletic trainer for the first team and head athletic trainer for the Academy. During his time with El Paso, he has come to appreciate the greater ability to develop personal relationships with players due to the smaller roster sizes in soccer.
"Relationship-building is big in my role because you need to learn what players need and expect," Rivera said. "Working here at Locomotive with the first team and the Academy, I can be more personable and hands-on with the athletes, giving me more time to learn about them and to be there for whatever they may need."
What many players may not know about Rivera is how much of a dream come true working for Locomotive is for him. Before he was an employee, Rivera was cheering for Los Locos on the sidelines as an original founding member of Locomotive Supporter's Group 8th Notch.
"I always wanted to be part of the club in some capacity, and when I found this opportunity to work as an athletic trainer, I knew I had to take it," he said. "Now when I come out at home games with the first team, people at 8th Notch will see me and they'll chant my name, which is cool. I'm a part of the Locomotive team now and though it's different for me as an employee than it was as a fan, it's still fun to take it all in."
A fan at heart, working alongside the talented Academy players and seeing them develop and succeed is one of the things that Rivera has enjoyed the most working with Locomotive. Whether it's a road trip to a week-long tournament or celebrating late winners on the field, Rivera is nothing short of thankful for the experiences he has had.
"This organization is a place I have wanted to be a part of since day one," he said. "I'm very grateful to be here now and I'm excited to continue working here."