EL PASO, Texas – El Paso Locomotive FC announced today that Jon Burklo is set to join the first team technical staff as an assistant coach for the 2023 season, one of a few new additions brought in by Head Coach and Technical Director Brian Clarhaut.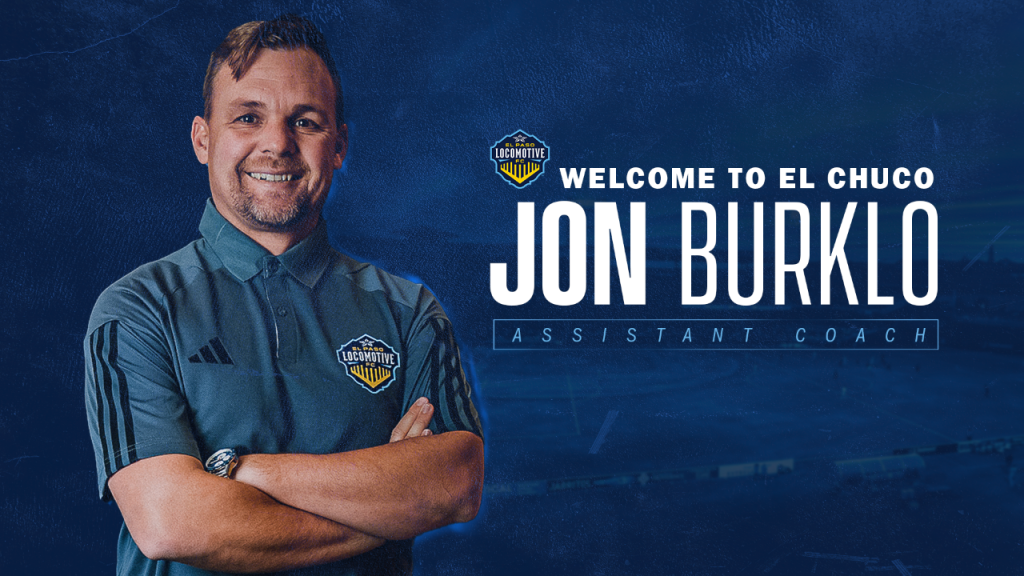 "Clarhaut and I are aligned on how we see the game, so I'm going to do everything I can to support him and the team," Burklo said. "My experience as a coach serves me well in my ability to teach, understand and apply game models. Ultimately, we want to win and bring this team back into the playoffs to compete for a championship. I'm really excited to get to El Paso and make the fans proud of the club they support."
Burklo comes to El Paso after spending almost four years as the MLS Next Academy Director for RISE SC in Houston, a non-profit working to provide local youth players with opportunities to play at elite levels.
Prior to RISE, Burklo was the Boys ECNL Director at St. Louis FC's Academy and St. Louis Scott Gallagher SC from 2015-19. In the Academy at different program levels, Burklo worked with notable future MLS and National Team players, including Josh Sargent, Jack Maher, Kipp Keller and Wan Kuzain.
For the 2013 fall season, he worked as an assistant coach for Our Lady of the Lake University men's and women's soccer. The women's team went undefeated in regular season play and clinched the 2013 Red River Athletic Conference title. The Saints made an appearance in the 2013 NAIA Women's Championship Tournament and ended the season ranked 19th in the NAIA Coaches' Top 25 Poll.
Burklo was also the Director of Soccer Operations at Neyso Liberty SC in 2013 before going full time in 2014. There, he oversaw all recreational, academy and competitive programs as well as club and player development, coaching education, curriculum development and staffing.
His first opportunity to lead a men's team came in 2014 when he took the head coach job for Corinthians FC of San Antonio in the National Premier Soccer League (NPSL), leading them to a Conference Final finish in their inaugural season.
As a player, he played in USL League Two in 2005 and USL League One in 2006, with Richmond Kickers Future and Cincinnati Kings respectively. Burklo would make the jump abroad to Finland in 2007 to play for second division sides Rovaniemen Palloseura (RoPS) and JIPPO Joensuu before returning to the States to play with the Wilmington Hammerheads in 2008. Simultaneously that season, he spent time playing with the Houston Dynamo and D.C. United reserve teams.
He played college soccer with Liberty University between 2002-05. His senior year, he was selected to the All-Conference Second Team and the Virginia Sports Infromation Directors All-State University Division Second Team.
He was a member of the 2001 Wharton High School squad that was ranked amongst the top 10 teams in Florida. There, he scored 57 goals and registered 24 assists, earning a spot on the All-Conference and All-Region teams. He was selected to the Florida High School All-Star team and at the time he graduated, held the Wharton HS record for goals in a game (5), goals in a season (23) and assists (6).